Reaper and Reaper Binder
Reaper Binder
Mini reaper binder is mainly used to harvest and bind low stem crops such as wheat, rice, barley, oats etc. It is applicable in the pain, hills, slopes, small field, etc. In addition, it is with advantages of small volume, compact structure, complete harvesting, low stubble, automatic binding and putting, especially for lodging crop harvesting effect is significant.
Specifications:
---
Model
4K-50
4K-90
Total Weight (kg)
220
240
Driven System
Belt and Shaft Driven
Binding Way
Full Automatically
Rope Type
Plastic Rope
Cutting Platform Way
Vertical
Cutting Width (mm)
500
900
Cutting Type
Reciprocating
Crop Convey Ways
Sprocket
Stubble Height (mm)
≤ 80

Productivity (hm

²

/h)

0.06-0.12
0.01-0.15
Engine Supporting Power (kw)
3-4.05
Working Diagrams: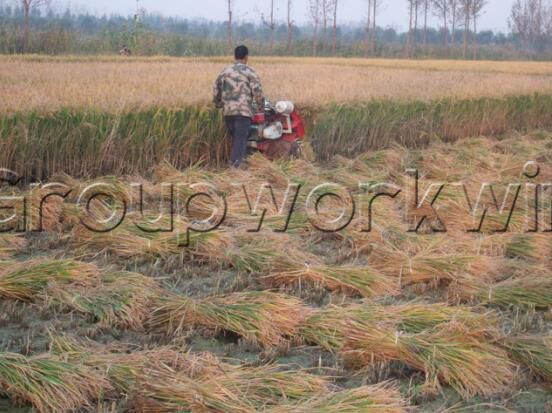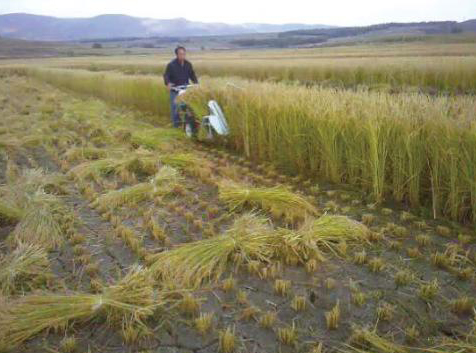 Group Work Win is a leading manufacturer and provider of total integrated supply chain solutions. We offer the best agricultural equipments, garden equipments and accessories. We have a multilingual team, and many big branch factories. A regional market presence, including Southeast Asia, Indonesia, Russia, Spain, Chile, Brasil, Australia etc. Group Work Win strives to build a long term relationships by providing our customers with continuous and reactive support. We aim to supply better quality products and after-sales service.
No. 2577, Dongfang Road, Weifang, China.
0086-536-2118192
0086-536-2118182
nancy@groupworkwin.com