Mini Tractor
mini tractor
Mini Tractor

Power Range: 12HP, 13HP, 15HP, 18HP ;
Diesel Engine: Single Cylinder Diesel Engine;
Drive Method: 2WD;
Transmission Method: Belt Transmission;
Clutch: Single Stage Clutch;
Gearbox: 6F+1R Gearbox;
Steering Method: Mechanical Steering;
PTO Speed: Optional;
Implements: Can match with all kinds of farm implements.
Specifications:
---
Model No.

GW-12E

GW-13E

GW-15E

GW-18E

Power

9-12HP

10-13HP

12-15HP

15-18HP

Diesel Engine Models

CF/XT 12NM

CF/XT 13NM

CF/XT 15NM

CF/XT 1105

Diesel engine form

Condensation electric start

Basic Configuration

Electric start, 2 * 2 wheel, half-rack,
belt drive, hydraulic lifting, dual valve,
single pipe, double-plate dry clutch,
mechanical steering wheel,
basic hood (D), 400-10 / 650- 16 tires,
45A battery
More Options

Water Temperature
Gauge

Rearview Mirror

Combination Switch

Oil Table

Back Light

Single Valve

the Rear Turn Signal
/Brake Lights
Hydraulic Equipment
in Front
1.Electric Start, 4 * 2 Wheel Drive;
2.Half-rack, Belt drive, Hydraulic lifting, Single stage clutch
Matched With Side Transmission Rotary Tiller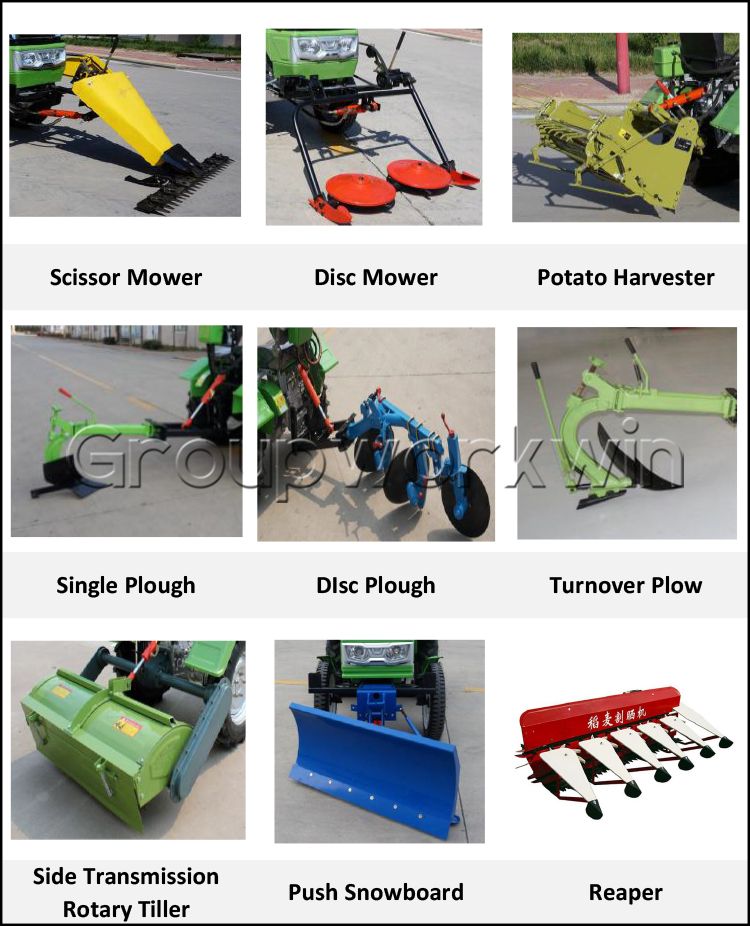 Group Work Win is a leading manufacturer and provider of total integrated supply chain solutions. We offer the best agricultural equipments, garden equipments and accessories. We have a multilingual team, and many big branch factories. A regional market presence, including Southeast Asia, Indonesia, Russia, Spain, Chile, Brasil, Australia etc. Group Work Win strives to build a long term relationships by providing our customers with continuous and reactive support. We aim to supply better quality products and after-sales service.
No. 2577, Dongfang Road, Weifang, China.
0086-536-2118192
0086-536-2118182
nancy@groupworkwin.com